About VideoLAN
VideoLAN is a
project
, run by volunteers, backed-up by a
non-profit organisation
, which produces
free and open source software
for multimedia, released under the GNU
General Public License
.
Learn more about the
VideoLAN project and organisation
.
About VLC
VLC
media player is a highly portable
multimedia player
supporting most audio and video formats (H.264, Ogg, DivX, MKV, TS, MPEG-2, mp3, MPEG-4, aac, ...) from files, physical media (
DVD
s, VCD, Audio-CD), TV
capture cards
and many network
streaming
protocols.
It can also
convert
media files, transcode and act as a
streaming server
over unicast or
multicast
and IPv4 or
IPv6
. It doesn't need any external codec, program or codec pack to work.
Overview of the VideoLAN streaming solution
The VideoLAN streaming solution includes two programs:
VLC media player which can be used as a server and as a client to stream and receive network streams. VLC is able to stream all that it can read.
VLS (VideoLAN Server), which can stream MPEG-1, MPEG-2 and MPEG-4 files, DVDs, digital satellite channels, digital terrestial television channels and live videos on the network in unicast or multicast. Most of the VLS functionality can now be found VLC. Usage of VLC instead of VLS is advised.
Complete details of
the streaming features are available
.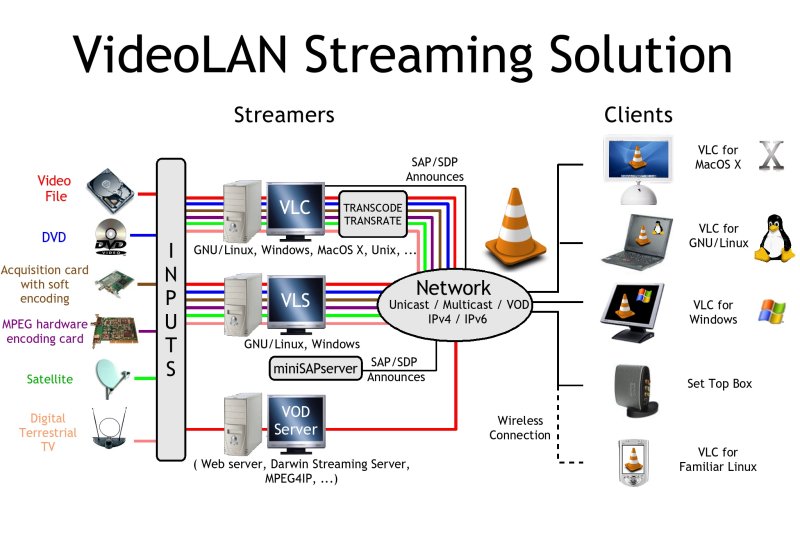 VideoLan Movie Creator
Now you see why this project is so important. The feature set and stability of VLC rivals anything that could be purchased, and would expect nothing less, from this open source community project.
What is VLMC?
VideoLAN Movie Creator is a non-linear editing software for video creation based on libVLC and running on Windows, Linux, and MacOSX. Currently in alpha stage, but the more people that use the program the quicker the bugs will get squished out.
This is a VLMC demo from December 2009.
It's not released now as it is unstable, and lacks some key features. Play in HD
This is a new VLMC video presentation.
Made during Fosdem 2010.
As you can see, they added a few things, such as audio support (at last...) some improvements in the GUI, and many little (and some bigger) things here and there !
Don't hesitate to visit the official VideoLAN website, along with the developer's blogs !
www.videolan.org