This AMV features the song Code Monkey by Jonathan Coulton, using footage from the anime Black Heaven.
AMV Editor:
Turbo Clips
A lot of people ask where the song is available, you can buy it at
Jonathan Coulton's website
for 0.99 or from itunes for the same price. Its released under the Creative Commons license, which grants use for projects like this. Thanks Jonathan!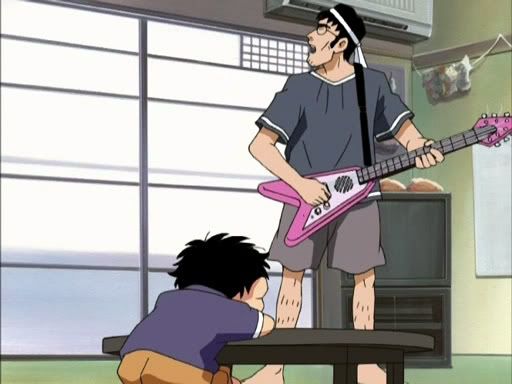 Others have asked about the anime, Legend of Black Heaven. This anime is about a man who was in a rock band in his younger days, but they broke up as the members grew up and got married. Years later, in a dead end job and dull marriage, he's approached by aliens who want him to play his music to save them...
Similar to the way music was influential in Macross, alien research has shown that the music of the disbanded rock band "Black Heaven" is able to power their ultimate weapon and turn the tables on what is inferred as a losing war.
Real world references
The name Black Heaven is a reference to seventies metal band Black Sabbath.
Oji plays a Gibson Flying V, similar to one played by Michael Schenker, whom he idolizes.
Like most famous bands, the songs are written primarily by two band members: Oji and Watanabe.
Layla is probably a homage to Eric Clapton's Layla.
Hamill is possibly a homage to Mark Hamill, or British singer-songwriter Claire Hamill.
Mulder and Scully are seen investigating a disappearance, only to be brushed aside by Layla's stooges.
The band's ship is named Zappa, in reference to Frank Zappa.
Oji's guitar is a Flying V (Flying Vee), and Gen's favorite show is called the Flying V (Flying Five). The band's ship Zappa also transforms into a giant Flying V.
Oji's pick is a Japanese 10 yen coin, a homage to Brian May who used an old sixpence as a pick on Queen albums.
All five stage names of Black Heaven - Gabriel, Luke, Michael, Raphael, and Joseph - derive from important figures of Christianity.
The episode titles are taken from famous rock songs.
The lobster house where Joseph Watanabe was eventually killed was named "Dio Lobster", in homage to the band Dio.
In Episode 9, Oji summons a U.F.O. by chanting "Ventura", in reference to Urusei Yatsura.
Oji's wife's name is Yoko, probably a reference to Yoko Ono.